How shall I organise my trip?
We at Fedasz Dental will help you to plan your visit in Hungary. Once you have made an appointment with our dentists, the only thing you need to do is to book your flight. Our team will assist you with all questions related to your treatment at the clinic and your stay in Budapest. Our driver will pick you up in the airport if you stay at the clinic's hotel.
It is easy to get to Budapest
There are several direct flights from the UK and Ireland to Budapest. It is advised to book your ticket as soon as you have made the appointment to the clinic to get the best price. Do not hesitate to contact us if you have any questions regarding your travel or check the following airline companies for more information:
– direct flights from London Gatwick and London Luton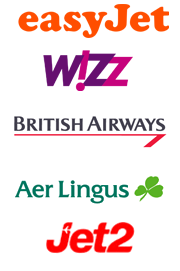 www.easyjet.com
– direct flights from London Luton
www.wizzair.com
– direct flights from London Heathrow and London Gatwick
www.britishairways.com
– direct flights from Dublin
www.aerlingus.co
– direct flights from Manchester
www.jet2.com
Airport transfer
We provide airport transfer for patients who stay at our clinic. (The price of the airport transfer is £ 60/ room).