Save 7O% on crowns and bridges!
We provide all types of high quality crowns and bridges. Our clinic has its consulting rooms and dental laboratory in the same building, which gives a unique guarantee of quality. The team of the laboratory consists of highly qualified and experienced technicians. They use the latest technology and the best materials to make porcelain crowns and bridges. We offer 5 years guarantee on porcelain crowns and bridges.
Beautiful smile within a few days!
We make crowns and bridges within short period of time in guaranteed high quality. You can save over 70% with crowns and bridges compared to UK prices.
| | | | |
| --- | --- | --- | --- |
| | Our price | in UK | Saving |
| Crown (porcelain fused to metal) | £ 230 | £ 510 | £ 280 |
More information on porcelain crowns and bridges
Crown and bridge restoration is a durable and aesthetic solution and improves the general health of your mouth. It was developed to restore damaged or missing teeth. Regardless of how your teeth were damaged, crown and bridge restorations will make your smile beautiful again.
It is important to restore decayed or missing teeth as soon as possible, as even a single missing tooth can cause your other teeth to drift and become crooked. Moreover, the problems of your teeth can affect your ability to eat and speak.
Crowns and bridges are fixed prosthetic devices. Unlike removable devices such as dentures, which you can take out and clean daily, crowns and bridges are cemented onto existing teeth or implants, and can only be removed by a dentist.
While crowns and bridges can last a lifetime, they do sometimes come loose or fall out. The most important step you can take to ensure the longevity of your crown or bridge is to practice good oral hygiene. A bridge can lose its support if the teeth or bone holding it in place are damaged by dental disease. Keep your gums and teeth healthy by brushing with fluoride toothpaste twice a day and flossing daily. Also see your dentist and hygienist regularly for check-ups and professional cleanings.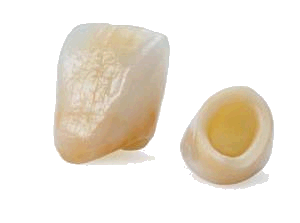 Crowns are dental restorations that are placed over a tooth when conservative fillings are not able to restore form and function. Crowns and bridges can be made entirely of tooth-coloured material, metal, or a combination of both to impart most favourable aesthetics. Some dentists use metal-free crowns and bridges and include stress-bearing materials to enhance their strength and wear-resistance.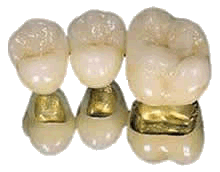 In situations where teeth are missing, a bridge inhibits the remaining natural teeth from drifting so that dental health and facial aesthetics are not compromised. Bridgesmay also provide a permanent, non-removable alternative to removable partial dentures. One type of bridge consists of crowns placed on both sides of the missing tooth to connect the replacement tooth or teeth to them. Another type of bridge consists of the replacement tooth attached to the adjacent teeth with wing-like attachments. Bridges can also be supported by dental implants. Whether supported by natural teeth or implants, bridges can offer life-like aesthetics and stable chewing surfaces.